Back
A lively and engaging concert for all the family
FUNharmonics family concerts are the perfect way to introduce the joy of classical music to the whole family. Concerts start at 12 noon, are one hour long, and are especially designed for children. Each concert is fast-paced and includes a presenter on stage, who breaks down the music or tells a story to keep our youngest audience members engaged and enthralled. There is also a big screen showing images projected behind the Orchestra, and always plenty of audience participation to get everyone joining in!
Make a day of it 
Your concert ticket includes a fabulous array of free musical activities in the foyer spaces at the Royal Festival Hall before the concert begins, so the whole family can make a day of your visit. This could include drop-in workshops showcasing orchestral instruments or exploring the themes of the concert, singing sessions, or even our popular "Have a Go" opportunities, where children can try out instruments of the orchestra.
Activities take place from 10.00am–12.00 noon and are free to concert ticket holders.
Who can come?
Most FUNharmonics concerts are designed for children aged 6 and over, though everyone is welcome. Please see the specific age guidance for each individual concert.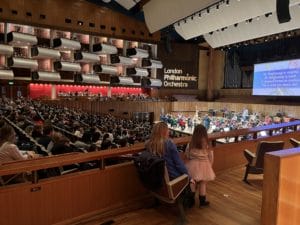 What our audience say
We loved that there was a story, with a narrator explaining what was going on, and beautiful images on the screen to help visualise the plot ... And the activities beforehand were also a great way to get to know the story, the music and the instruments. Thank you!
Parent, FUNharmonics concert 2023